ALL HOSPITALS | ALL SPECIALTIES
ALL PATIENTS  
ONE WEEK DATA COLLECTION 
GlobalSurg | CovidSurg Week is an international prospective multi-centre cohort study that aims:
(1) To determine the optimal timing of surgery following SARS-CoV-2 infection;
(2) Determine assess key global surgical indicators, such as postoperative mortality.
All hospitals can participate in this study, including hospitals that have not admitted SARS-CoV-2 infected patients.
All patients (from all specialties)

undergoing a surgical procedure done in an operating theatre will be included

(any SARS-CoV-2 status).
All collaborators

will be included as PubMed-citable co-authors on resulting publications.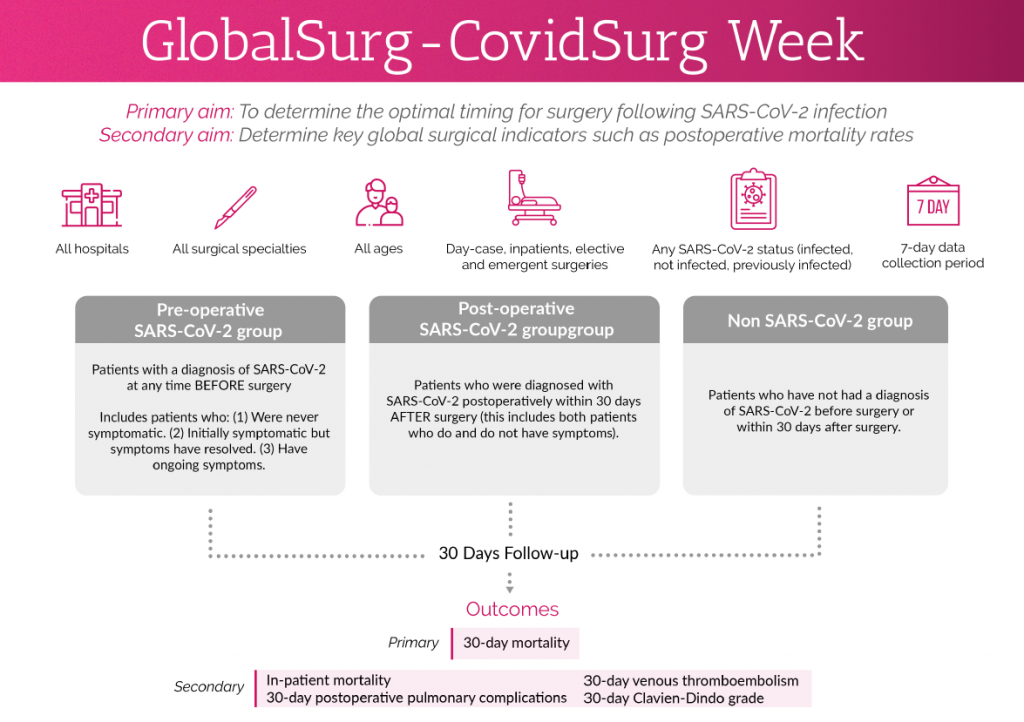 GlobalSurg | CovidSurg Week

documents
Country specific GlobalSurg | 
CovidSurg Week

documents
To participate in
GlobalSurg | CovidSurg Week

you must first secure research/audit approval, according to local regulations. Once the study is approved, you can upload the data to the online REDCap database. Please use the links below to find

multi language translations and study approvals

from the countries taking part.
Country specific GlobalSurg | 
CovidSurg Week

translations
Country specific GlobalSurg | 
CovidSurg Week

approvals