Global surgery guidelines
Most clinical guidelines are developed by high‐income country institutions with little consideration given to either the evidence base for interventions in low‐ and middle‐income countries (LMICs), or the specific challenges LMIC health systems may face in implementing recommendations.
We have completed a Delphi exercise to prioritize topics for global surgery guideline development. The results of the Delphi exercise were reported in BJS. We are now working with the research Hub network to develop the top prioritised guidelines.
Surgical site infection (SSI) is the commonest postoperative complication in abdominal surgery. SSI causes patients to experience pain and delays return to normal activities such as work. Additional SSI-related health costs can cause financial hardship, particularly for the most vulnerable patients in LMICs. Treatment of SSI is increasingly challenging due to the rise of antibiotic resistance, which occurs in up to 46% of LMIC patients. This places a strong focus on preventing SSI from occurring in the first place.
We have worked with surgeons representing 13 LMICs to collaboratively adapt existing high income country guidance to produce a guideline that reflects the challenges of delivering surgery in LMICs, and allows health providers to prioritize implementation of key interventions that are most likely to benefit patients.
The 'Global Surgery Guideline for the Prevention of Surgical Site Infection', published in BJS, has identified practical steps that all hospitals should urgently take to both reduce avoidable infections and the spread of antimicrobial resistance. In addition, a further three 'desirable' recommendations are made in the guideline. It is recognised that worldwide some hospitals may lack the necessary resources to immediately implement these interventions, in which case they should plan strategies to introduce these interventions in the future.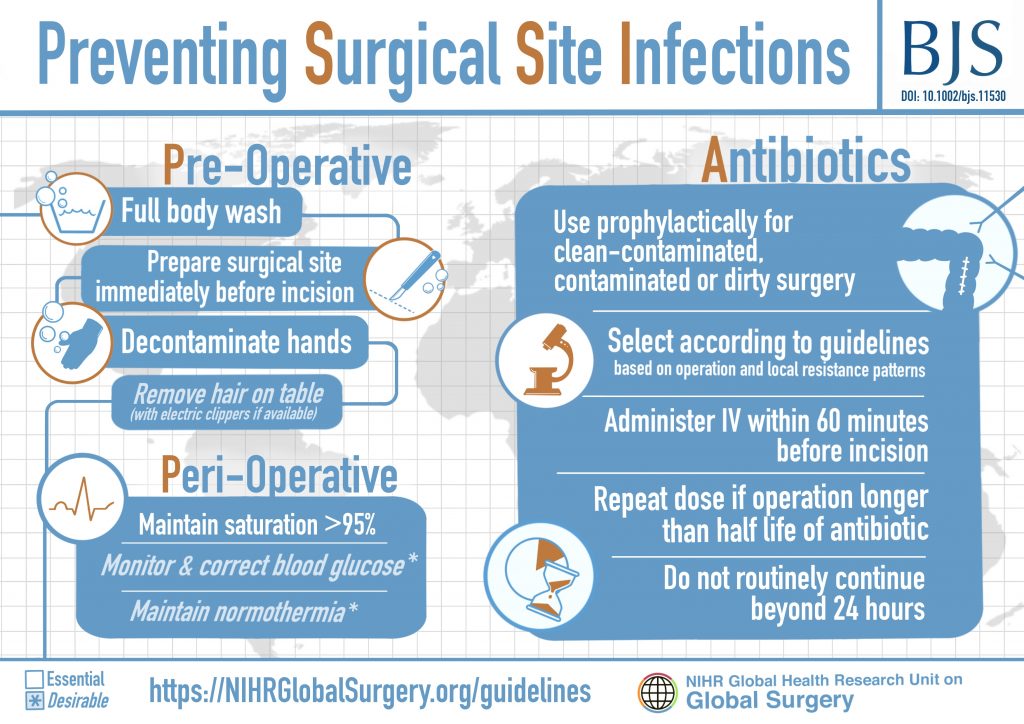 The recommendations are translated in the posters below.