The NIHR Global Health Research Unit on Global Surgery was established in July 2017 following substantial investment (£7M) from the National Institute of Health Research Overseas Development Aid funds.  The Unit is led by University of Birmingham in partnership with the Universities of Edinburgh and Warwick, along with partners from the GlobalSurg Collaborative in a number of Low and Middle Income countries (LMICs)
There is a critical need for research in surgery: surgery can be considered an umbrella discipline and improving surgical services can treat a wide variety of conditions from trauma injuries to obstructed labour and cancer. However, the World Health Organisation (WHO) has identified a substantial deficiency in the availability of surgical service across the world.
Five billion people do not have access to safe, timely and affordable surgical care. In LMICs the problem is even more acute, with 9 out of 10 people lacking access to even the most basic surgical services. To put this into perspective, each year, whilst half a million people die of malaria, about six million die within 30 days of an operation. The current good prognosis from malaria is due to the huge advances that research has enabled. The greatest benefits to the worldwide population have been seen in LMICs. Correspondingly, it can be envisioned that the impact of surgical research in these settings will be substantial.
The main objective of the Unit is to build sustainable clinical research capacity in LMICs, as well as to deliver on several of the UN's Sustainable Development Goals – Good Health and Well Being; Industry, Innovation and Infrastructure; Reducing Inequalities; and Partnership for Goals. This will be achieved by establishing independent research hubs in LMICs to conduct clinical research for surgical patients. Each hub will act as an independent research centre to running clinical trials and cohort studies, and will support research training and education. In addition, the hub centre will work with other hospitals within their country, so called 'spoke' hospitals, supporting them to conduct trials.
Our ambition is to train front line clinicians and health professionals to deliver clinical prioritisation and research relevant to patients in LMICs, that will challenge and change surgical practice in these countries.
Working in this way, the NIHR Global Health Research Unit on Global Surgery  will build research capacity and infrastructure in partner countries ensuring long term sustainability of high quality research, and ultimately improving surgical outcomes for patients around the world.

Scroll around the map to see the location of the NIHR Global Health Research Unit on Global Surgery Hubs
NIHR Global Surgery research hubs are funded by the NIHR and supported by their academic host institutions
Research Prioritisation Workshops
The ethos of the NIHR Unit on Global Surgery is inclusive and collaborative. The unit aims to set the research agenda that is important to all surgical patients around the world.
Every year an NIHR hub centre will host a Research Prioritisation Workshop where surgical researchers, healthcare professionals and policy makers meet to discuss research themes and priorities. The outcomes from these workshops form the basis of future GlobalSurg cohort studies, leading ultimately to international, multi-centre randomised controlled trials.
Recent workshops have been held in Birmingham (UK), Johannesburg and Kigali.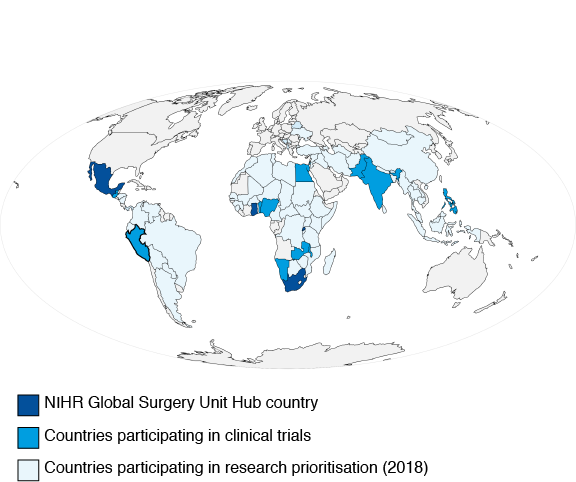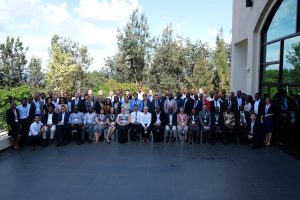 Research prioritisation workshop, Kigali, October 2018

Surgical researchers and policy makers meet in Johannesburg, November 2017

The NIHR Unit on Global Surgery is committed to improving research skills by providing access to high quality research training and education.
Each year the Unit will offer scholarship opportunities for trainees to join the University of Edinburgh MSc Surgical Sciences degree programme. This is a part time, distance learning degree programme delivered entirely online by the University of Edinburgh in partnership with the Royal College of Surgeons in Edinburgh. More information about the degree programme can be found here. If you are in a hub country and would be interested in applying for a scholarship, please contact your local NIHR Unit hub via our contacts page. 
In addition, the Unit will provide training materials for all our clinical trials and cohort studies. We will also run Research & Audit Skills face-to-face workshops in hub countries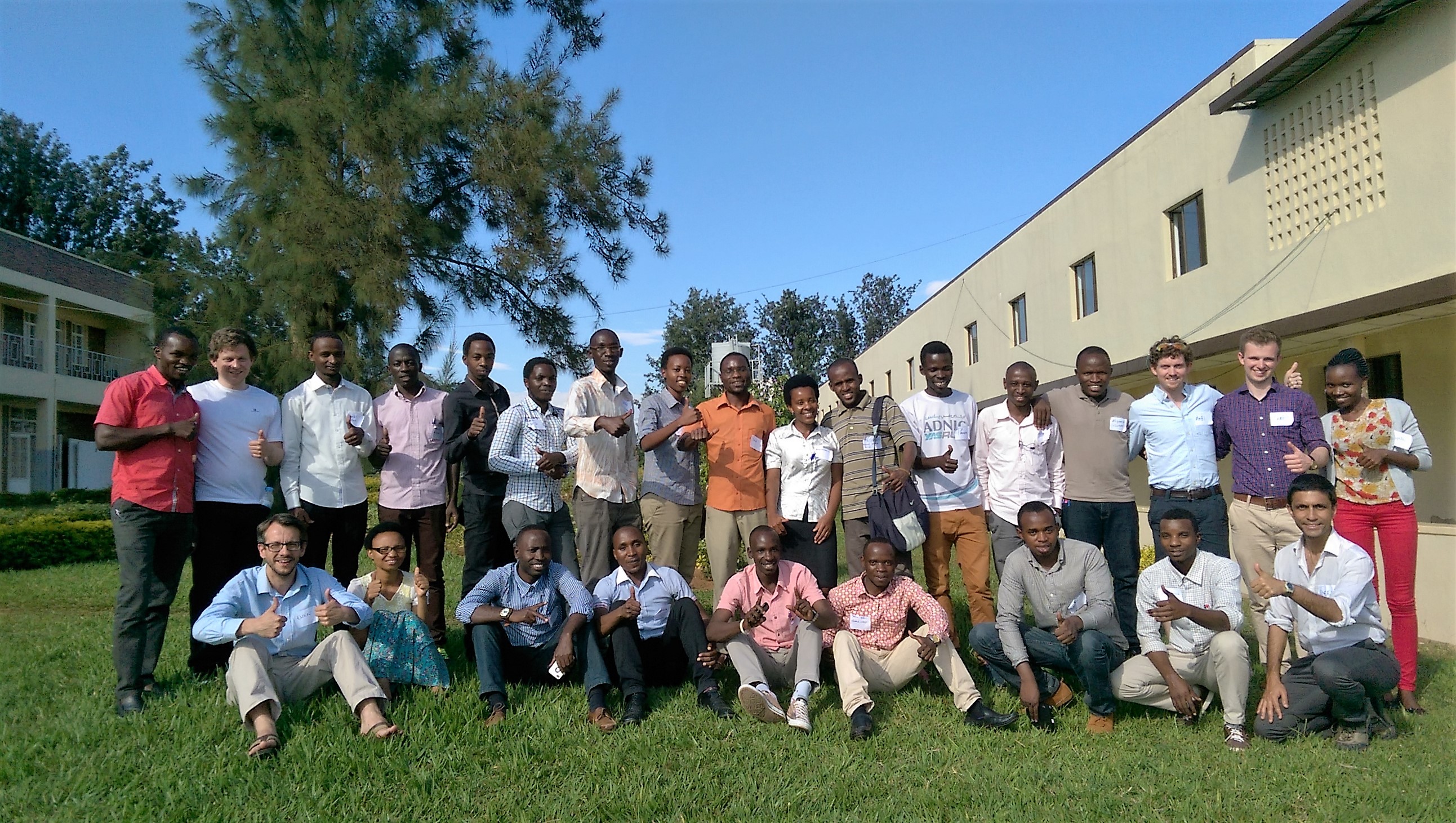 Research & Audit Skills workshop in Kigali, Rwanda