Using data to understand outcomes for cancer surgery in low- and middle-income countries
Eighty percent of individuals with cancer will require a surgical procedure, yet little comparative data exist on early outcomes in low- and middle-income countries (LMICs).
Direct estimates of the incidence and distribution of cancer by stage are absent for many LMICs and little is known about variation in access, quality, and outcomes in global cancer care.
This insufficiency of high-quality data limits global efforts to improve cancer care.
Strategic planning mandates detailed and accurate information, so that appropriate resources can be allocated and quality improvement prioritised. Demographic and clinical data, together with details of hospital resources, are needed to help refine public health initiatives, treatment strategies, and quality improvement interventions.
This study aims to address how prospectively collected data can measure current postoperative outcomes in surgery, using cancer care as an example. Using standardised, validated, and prospective methods we will gather global, contemporaneous, and comprehensive data across 80 countries to identify how such data can inform future research aimed at improving outcomes in surgery.
Patient malnutrition and early postoperative mortality following surgery for cancer will form the primary focus of this work.
The research aligns with recent LMIC-led research prioritisation exercises and current trials in perioperative care lead by the NIHR Global Health Research Unit on Global Surgery. It will support and inform the pilot randomised controlled trial exploring how a low-cost, scalable nutritional intervention could improve surgical outcomes in LMICs (CRANE study).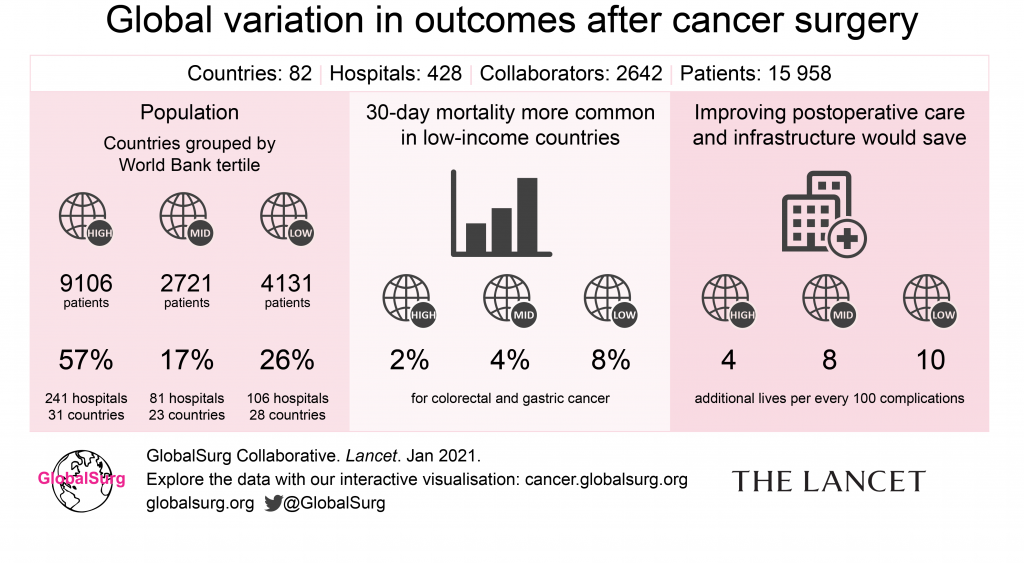 Recent publications and prizes
Systematic review of the use of big data to improve surgery in low‐and middle‐income countries SR Knight, R Ots, M Maimbo, TM Drake, CJ Fairfield, EM Harrison The British journal of surgery, 2019; 106(2): e62
Quality and outcomes in global cancer surgery: protocol for a multicentre, international, prospective cohort study (GlobalSurg 3) NIHR Global Health Research Unit on Global Surgery BMJ open, 2019; 9(5): e026646
The Impact of Preoperative Immune Modulating Nutrition on Outcomes in Patients Undergoing Surgery for Gastrointestinal Cancer SR Knight, S Burden, S Sundar, EM Harrison Annals of surgery, 2019; 270(6): e127-e128
Global variation in postoperative mortality and complications after cancer surgery: a multicentre, prospective cohort study in 82 countries NIHR Global Health Research Unit on Global Surgery Lancet, 2021; 397(10272): 387-397
The Effect of Malnutrition on Early Outcomes after Cancer Surgery: an international prospective cohort study in 82 countries Winner of GASOC Global Surgery Prize, ASiT 2020 Presented by Aya Riad (Co-supervised project)