October is the final month for

GlobalSurg 3

data collection
Last date to begin data collection is Oct 4th 2018
Don't miss your chance to be part of the next major

GlobalSurg

publication!
If you have registered to take part in the study but not yet started your data collection, you must begin by October 4th at the latest
All 4-week data collection periods must be concluded by October 31st; 30-day follow up for patients entered into the study during October will be collected during November, but no new patients should be collected after October 31st.
If you have not registered, there is still time to do so. Register here
If you have registered but not yet received your REDCap account, you can begin data collection using the paper data collection form. NB all data must be transferred to REDCap for inclusion in the analyses (& for you to included in the authorship list). Paper form available here
Thank you to everyone taking part in data collection!
If your country is white on our data entry map it means we have not yet received any data from your country for

GlobalSurg 3
Can you help fill in the gaps?
Follow live study updates at data.globalsurg.org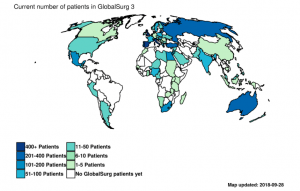 Are you in a country not yet on our
GlobalSurg 3

registration map?

Register to join the biggest Global Surgical Outcomes Collaborative in the world.
Be part of GlobalSurg!