Annual Research Prioritisation workshop gets off to great start!
Today saw over 100 surgeons and researchers from more than 25 countries come together for the opening of the 2nd Annual Research Prioritisation workshop from NIHR Global Health Research Unit on Global Surgery.
The meeting was opened this morning by Professor Philip Cotton OBE, Vice Chancellor of the University of Rwanda, and our long term collaborator Dr Faustin Ntirenganya, Head of the Department of Surgery at The University Teaching Hospital of Kigali School of Medicine and Pharmacy.
Each of our hub leads, Stephen Tabiri (Ghana), Rachel Moore (South Africa), Antonio Ramos-De la Medina (Mexico), JC Allen (Rwanda) and Ahmed Qureshi gave an update on the amazing progress they have been making establishing the research hub in their countries. It was great to see just how much has been achieved since our last workshop in Johannesburg this time last year.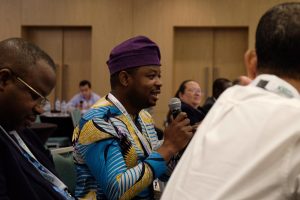 After a quick update from the NIHR Unit on Global Surgery's Education & Training Committee and an introduction to Patient and Public Involvement, we had our first ever NIHR Global Surgery Unit Lion's Den – based on the concept of the UK TV programme, The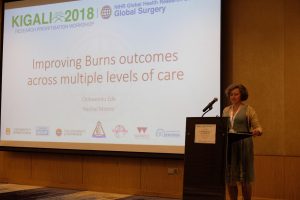 Dragon's Den, collaborators from our network gave short research project proposals to 'bid' for funding from the NIHR Unit on Global Surgery. Whittled down from an initial entry list of close to 80 proposals, a long list of 12 was considered by a panel of experts before the meeting and best 9 proposals were selected to be presented at this morning. We heard proposals on a wide variety of research topics including inguinal hernia repair, burns care, honey wound dressings and use of the WHO checklist. After each presentation there was a panel led discussion and a number of scorers within the audience. The standard of all presentations was exceptionally high – winners will be announced later during the workshop with the best 3 proposals receiving funding to get the research under way.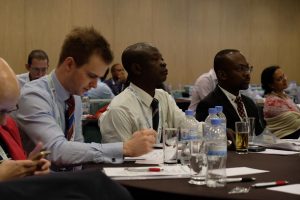 After lunch we moved onto the Research Prioritisation exercise. Following Delphi methodology, opinions had been gathered from over 700 collaborators from our network via an initial, round one, online survey. The ideas were discussed by a panel of experts before the meeting (round 2) in order to put forward 2 themes for consideration by our collaborators: Reducing mortality after high risk surgery and Improving care injured patients. Both themes were rigorously debated by the meeting delegates and plans explored as to how the unit can begin to address these important research priorities through high quality research studies in order to improve patient care and surgical outcomes.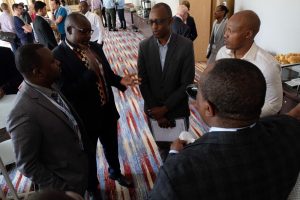 In parallel to the research prioritisation exercise, we were delighted to welcome delegates from the Rwandan Surgical Society to hear training sessions in preparation for the FALCON and CHEETAH trials.
Day 2 will see the winners of the Lion's Den be announced as well as updates on our current clinical trials, FALCON, CHEETAH, CRANE and PENGUIN and this year's cohort study, GlobalSurg 3