GlobalSurg 3

in Numbers – September update
2414

researchers,

518

hospitals,

94

countries, nearly

5000

patients 
An amazing 

94

 countries are now registered for GlobalSurg 3- can you help us reach our target of

100

?
If you are in a country not yet coloured pink on our registrations map, please consider joining GlobalSurg 3 and contributing data on your patients to our biggest ever international study into surgical outcomes for cancer patients.
Click here to register and join 2414 researchers at 518 hospitals collecting data to help improve patient outcomes
V

isit data.globalsurg.org to see if you country is registered yet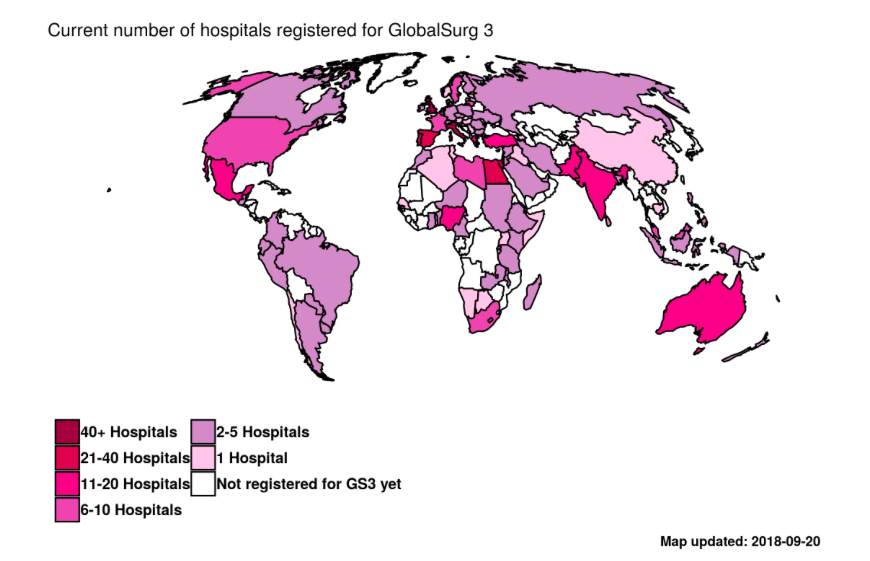 Recruitment Update
Thank you and well done to this month's top recruiting hospitals (in no particular order):
Central University Hospital Of Asturias (Spain)
Addenbrooke's Hospital (UK)
Royal Devon and Exeter Hospital (UK)
State Scientific Centre of Coloproctology (Russia)
Lithuanian University of Health Sciences Kaunas Clinics (Lithuania)
Remember, October is the last month of data collection for GlobalSurg 3 
Patient numbers update

*Numbers in brackets indicate increase since 30/08/2018
4692

(+1101) patient records entered into REDCap,

2997

(+728) patients' data already completed
Are you in a country not yet on our
GlobalSurg 3

registration map?

Register to join the biggest Global Surgical Outcomes Collaborative in the world.
Be part of GlobalSurg!